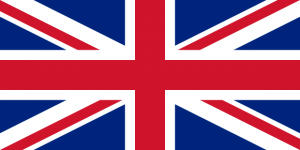 April-October Tuesday to Sunday 10 a.m. to 5 p.m.,
Nov-March Wednesday to Sunday 11 a.m. to 4 p.m.
Last admission 30 minutes before closing
PUBLIC GUIDED TOURS THROUGH THE HISTORY AND IRON MILL MUSEUM AND STEAM ENGINE No.7 April – October on Wednesdays and Saturdays, meeting at 2 p.m. inside the Iron Mill Museum
IRON MILL MUSEUM THALE: ON THE IRON'S TRAIL
A sheet metal mill, erected in 1686, had been the predecessor of the iron mill.
At the tercentenary in 1986, a museum exposing the documented history of the
plant was established in the dwelling house of the first mill owner Bennighaus
(1786-1855).
Impressing technical models and typical products and machines will lead the
visitor visually through the history of a large concern that, in the end, consisted
of five branches of production: steelwork, rolling mills, stamp and enamelling
plant, vessel and reactor engineering (today THALETEC GmbH) as well as powder
metallurgy (today Schunk Sintermetalltechnik GmbH Thale).
Exploring the museum, the visitor will discover how ore is used to produce iron
and steel which then might turn into a sheet, a pot, a bath, a reactor, a cog or
even into art. Furthermore, the exhibition reconstructs how the rail connection
and the industrialisation turned the village Thale into a city by the time of 1922
and how the consequent pollutions were dealt with.
The  factory  became  known  predominantly  for  the  "Löwen-Email"  ("Lion-
enamel") products, which also can be seen in the museum. Around 1900, the iron
mill in Thale covered ten percent of the worldwide need of enamelled crockery.
Besides that, the gallary of the iron mill museum hosts six to eight special
exhibitions per year with different objects of art, craft or history.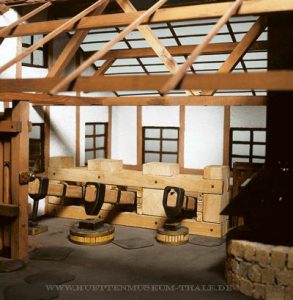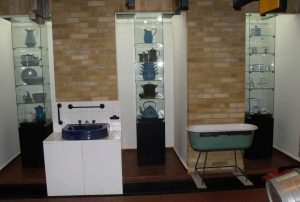 STEAM ENGINE No.7
The preserved steam engine No. 7 was built in 1911 and drove the
blooming train from 1912 until 1990 so that steel ingots could be
rolled out to bars (preliminary to sheet). The steam engine is unique in
Germany due to its long service life, its special construction and to the
fact that it is still situated at its former production location. It has been
restored between 2000 and 2008 and reactivated by an engine. Since
2009, the powerhouse can be visited from April to October.
Year of construction: 1911 · Power: 1.500 HP / 1.1185 MW